12 Ways To Differentiate From Your Competitors And Win Every Single Time
How to differentiate yourself from your competitors? Wow, that's a big question. We made a survey of almost 500 small business owners and this was by far their biggest problem.
Anybody who ever started a business had this problem. Some succeeded at differentiation and are now enjoying the fruits of it. The good news is that everybody can do it.
Whether you're in Saas business or any other you're probably facing the problem of not getting differentiated from the crowd.
Just look at the page alternativeto.net and you'll see how many competitors you have.
Btw it would be awesome if you'd go there and rate our product.
One of my favorite books is "The purple cow" from Seth Godin. In this New York Times best-seller book he talks about differentiation. The book is called "The purple cow" for a reason. When Seth was on a trip to Switzerland he saw amazing sceneries.
Switzerland is famous for its mountains and nature. When Seth first came there he was amazed as he noticed a herd of cows. He fell in love with that scenery.
But after going through Switzerland for a couple of hours he noticed hundreds of cows that looked the same and he stopped feeling in love with the scenery. It got repetitive.
It's the same with your business. Marketplace is crowded and if you are just like the next business you'll get boring to your customers.
There was one moment in Switzerland that gave Seth the big idea for his book, though. When he stopped noticing all the cows something amazing happened.
He saw A PURPLE COW. And that was a scene that he will remember for the rest of his life. You can't forget a purple cow, and that's exactly what we will talk about today.
How to become the purple cow in a crowded marketplace.
The marketplace is a ruthless place. Some even say it's worse than a jungle. Sometimes it seems that it's just too much to handle.
Don't lose your hope. The fact marketplace is a jungle is EXACTLY what you need. You are a hero and you're made to adapt and to overcome.
You should get smart about it and change a few important parts of your business and you'll win for sure. That is a simple process, but I'm not going the tell you the most important parts just yet.
First I'm going to try and get your creative juices going and tell you which areas you can improve. Plus I'll give you useful resources for every one of these.
Here are 4 parts of every business which can use to differentiate yourself and win:
Marketing x3
Customer Experience x3
Innovation x3
Branding x3
Basically, we'll go over each part and give you 3 action steps for each.
We will talk about Marketing first because it has a huge impact on every small business. Marketing is the part of a small business that pulls forward and enables growth and profits.
Marketing
#1
Design
In his book "Pre-suasion", Robert Cialdini talks about things you can do to "soften" your customer before they even come near your business. One of those things is design.
By creating a unique design in your presence you stand out from the crowd and instantly become a purple cow. You should be bold and have a theme to your business. Take SumoMe for example.
SumoMe is a business that offers a variety of marketing solutions for businesses. With SumoMe you can create beautiful landing pages and grow your email list in just a few clicks.
But one thing that you'll notice when you're on their page is that they have a distinct design. When you go to their blog, you see they have high-quality content.
In your opinion what do they do differently? Go and check it out?
If you think that they are distinct because of their illustrations on every blog post, then you're right. The funny thing is that you can easily create illustrations like that with a tool like Canva for free.
SumoMe is differentiating itself with a simple and cool design and they're winning. Over 500 000 people are using their services.
Do you know any other company that is distinct with their design? Maybe Apple comes to mind?
Apple took the whole world by surprise with their modern design and so should you. Think in terms of what you can change in your design to help you differentiate from your competition.
#2
Growth
A business is like a tree.
Business needs to grow in order to survive and thrive. But how can someone grow their business in a distinct way?
Well, only 25% of businesses advertised online in 2016. That's an amazing opportunity for small businesses all over the world to crush it in 2017. If you're not using online advertising for growth then you should really consider differentiating yourself that way.
But what to do if your competitors are using the online advertising and that's not really a differentiator in your niche?
Then you need to get creative with your growth. You need to find a place online where it's not so obvious that your potential customers are there.
Consider getting active on reddit, growthackers, craigslist …
Yeah, you heard that right. The craigslist.
I have a pop quiz question for you … What big company used Craigslist to catalyst their linear growth?
That company is Airbnb. They used Craigslist as one of their early growth machine. That was surprising to me also.
Watch the video below about how did that happen and take notes as you watch it. Craigslist is a non-explored growth machine and you should use it daily.
Furthermore, I invite you to check out our own 7 growth tactics for small businesses that will give you more inspiration to improve your growth in 2017.
All of those tactics will help a small business differentiate itself from and outpace the competition both in short-term and in long-term.
#3
Influencer Marketing
Influencer marketing is relatively new to the market. The gist of it is that you network with successful people online who have a lot of followers that are your potential customers. Then they feature you to their followers and you get some new customers, leads and traffic.
You can put influencer marketing to action in two ways.
As a traffic source
That is the obvious way of using influencer marketing. Influencers send their fans to your site and you have a chance of converting them into customers. If your product is any good you'll get a lot of new clients this way.
You can achieve this by befriending them and do things for them. We talked about how you can do that in the blog post about customer care killing your business.
But for the most part, you will have to pay for their services.
I've read an amazing article recently about influencer outreach campaign. You will find almost every piece of information about influencer marketing in this blog post.
You should bookmark that site and read the blog post later.
There is one more important benefit of doing influencer marketing. You can differentiate yourself from all the competitors doing this. Read on …
Getting Viral through influencer marketing
Did you read the book "Trust me I'm lying." from Ryan Holiday? I strongly suggest that you go and read that book if you haven't already.
Ryan Holiday is a "media manipulator" that used to do all kind of tactics to get featured in Big Media Publications.
He describes the process of how news get covered by the biggest publications. One of the ways to get noticed is through small blogs.
You write something newsworthy on a small blog and then pitch it to a bigger blog. After that, the news usually gets noticed by a medium sized publication which in turn get the attention of the big players.
And Voila, you get featured on big publications and get millions of views.
It's the same with the influencer marketing. You only need one big influencer to share your story and you are off to stars.
It can't get any better than that. Refer to the blog post about influencer marketing outreach I mentioned earlier and start today.
Customer experience
#4
24/7 customer service with just two people
Great customer experience is one of the best ways to get above the crowd in a competitive market. You can do this by providing just exemplary customer service. Take a look at the video below with an example of exceptional customer service. That kind of service can do wonders for your business.
With exceptional customer service, you get long-term clients which will talk about you like James Lloyd just did in that video. Actually, Nordstrom still holds one of the prime spots in customer service popularity.
Customer service is their unique selling proposition. And you should consider it to become one of yours.
Now, there is one BIG problem with customer service. Unfortunately, it tends to be costly in terms of money and time.
I have a good news for you, though. There is a solution to both of these problems.
https://www.helpscout.net/blog/24-hour-support/
Helpscout found a way to have 24/7 support and they did it with two employees only!
#5 Get honest feedback from your customers
Did you ever watch the tv show "Undercover Boss"? In that tv show, top managers of big companies go undercover to find the, often ugly, truth about their business. They work as an entry-level employee at different positions. That way they get to know their company from the ground up.
Managers get valuable insights every time and the company gets better because of that. Getting the truth, the whole truth and nothing but the truth is a powerful concept. The logic behind it is that they go in anonymously and their colleagues are free to tell them all the flaws of the company.
That is exactly what you should do with your CUSTOMERS. You should go "undercover" and see what your customers really think about you.
Now, you could dress up differently and go talk to your clients. But that would be kind of a waste of your time, right?!
What you can do instead is to offer your customers anonymous questionnaires. Your customers will be grateful for the opportunity to get their voice heard. Plus you'll get valuable insights into your business.
You can actually create this kind of questionnaires (forms) directly from Ninjodo. Here is one example of such form. If you're a Ninjodo user, you can do us a favor and answer to the questions.
These kinds of forms make your customers feel safe and they will most certainly give you their most honest feedback.
You can do a lot of things with that feedback. But most importantly you should use that to see what are things your customers don't like about your service. With that you can identify what to work on and improve it to differentiate yourself from the competition.
#6 It's all about YOU
One easy way to differentiate yourself from the competition is to be true to yourself. By believing in yourself and getting your character involved in your business, you create a unique atmosphere within the company. That in turn reflects itself onto your customers that feel your character in everything they do with you.
Take a look at how self-belief + customer service can equal unique and successful company.
https://hbr.org/2010/07/how-i-did-it-zapposs-ceo-on-going-to-extremes-for-customers
There are over 7 Billion people in this world and everybody is unique in some way. Just start believing in yourself more and share your character with your employees and that will differentiate you from the competition in even the most crowded markets.
Think in terms of what are your strengths and double down on them. In a relatively short period of time you'll see the returns of that action.
Not only will you look differently from the client's perspective, but you will see an increase in motivation and happiness of your employees. That will make the team spirit even better and your employees will be even more productive.
Innovation
#7
Follow Trends
There is a catch here. You can't differentiate yourself just by following trends in your industry. In order to differentiate you need to lead in something and following trends is the direct opposite of that. Or so it seems. 🙂
When you differentiate yourself by following trends you are setting yourself for success (potentially even viral success). You can differentiate from your competitors with trends in multiple ways.
You should be aware that following trends from YOUR INDUSTRY will not differentiate you, it will enable you survival. Think about this.
Why wouldn't you follow trends in other industries and apply it to your business?
If you do it like that, you're probably doing something that nobody else is doing. So I encourage you to go and follow trends on Google Trends, Kickstarter, Reddit, HackerNews, Entrepreneur, Twitter etc. Don't follow trends from your industry, though.
Here is an example. Do you remember the time when Pokemon Go's popularity exploded in 2016? Everybody heard of it and most of us even played it.
But what did some genius small business owners do?
They made Pokemon Go hotspots in their local stores and created a wave of new customers that way.
Can you image the amount of money the first person to come up with this made? That's a smart human and anybody could have done it. You should be open to respond quickly to those waves.
#8
Have a disruptive business model
If you're a dreamer and want to achieve huge goals and make an impact, the following way of differentiating yourself from the competition is for you.
Basically, you make a model of your business that will annihilate all your competition and make a completely new category of business.
For inspiration on how to do this seek out information about Uber, Tesla, Airbnb etc.
Taking over the world would be amazing right? But you can use information about disruptive models of business, scale it down and use the same methods just to outpace your competition. You don't have take over the whole world.
#9
Why don't you go backward for the inspiration?!
There is a big problem with sources of business inspiration these days. There are too many sources and that can make you procrastinate. Basically, you think about all these great ideas and don't execute any of them.
I have this one go-to website that solves that problem and gives me ideas that are guaranteed to work. They actually already work for 20 years or so.
Do you know what I'm talking about? I'm talking about expired patents! Genius, right?
You probably didn't know that there is a website where you can see which patents expired today. That website will give you a few important ideas that you can implement today.
Did you know that 80% of patents are never commercially exploited? This can be an amazing opportunity for you to differentiate from your competition.
You can check out patents that are expired here: http://patentsexpiringtoday.com/
Sometimes the older is better and that might be THE solution for YOU.
Branding
#10
Targeted Marketing
Branding is an important way to differentiate yourself from the competition. When you make a brand you put yourself in a position to achieve an easy win over the competition.
One of the ways to differentiate yourself by branding is to have a targeted marketing approach. You can take a stand and exclude some of the customers that are not the right fit.
An episode from Seinfeld comes to mind. Can you guess what that episode is?
If you guessed "The Soup Nazi", then you're right. In that episode audience is introduced to a business owner who has strict rules about buying his products. He excluded all the customers that he doesn't like. His results are so good that there is always a huge line in front of his store.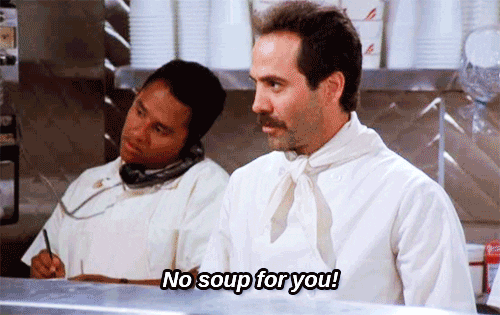 When you do it like this, you will repel some customers, but you'll get so many others. So, think about what kind of customers you don't want to deal with and say it loud and clear.
#11
Complete transparency
Another way of differentiating yourself through branding is to have complete transparency in your business.
People will sometimes judge you and think you're shady. You definitely don't want to look like you're shady to your customers.
By including a complete transparency policy you will make two impacts. You will have the trust of your customers and you'll differentiate yourself from the competition.
I first saw Pat Flynn from "The smart passive income" do this. He's got monthly income reports on his site. It gives him so much credibility. What do you think when you see something like this?
https://www.smartpassiveincome.com/income-reports/
Now that is an easy way to differentiate from your competitors. Think about doing something like this yourself.
#12
Take a stand!
Taking a stand as a way to differentiate yourself from your competitors is deeply connected with "#6 It's all about you" way of differentiating.
Too many businesses are trying to blend in and satisfy every customer. It's impossible to satisfy every customer. It's like trying to make every person you encounter like you.
I invite you to answer the following questions instead:
When someone asks you about your core values, what comes to mind?
What values do you live by?
What values are making some people love you and some hate you?
When you find answers to those questions you'll know what to use for your brand and what kind of customers you want to attract.
You'll become more specific and unique for your customers. They will love you for it.
The conclusion
Differentiating yourself from your competitors is a crucial thing for a business in a crowded market. I've listed 12 ways you can differentiate yourself easily and all of these are meant to inspire you.
Now, of course, the hardest thing is the implementation of differentiation suggestions. You should read a best-selling book called "Steal like an artist". In that book, you'll learn how to creatively use resources you have and make something completely new.
If Picasso used that method, so should you.
The most important thing is to know yourself, your business and your competition. When you know those three factors you will be able to correct your business path and thus survive and thrive.survive and thrive.
I invite you to read yet another book which is relevant to this topic. The book is called "Managing oneself" from Peter Drucker. The basic premise of that book is that you should focus on finding your STRENGTHS as opposed to weaknesses. That way you'll be able to improve much more quickly and get the results you want.
And finally, I made a mind map of today's post to help you. You can print it out, send it to your friends or use it as a daily reminder of things you want to do.
If you liked the article share it and if you'd like to get a blog post like this every week enter your details below.